Teacher training for 56 teachers from Saudi-Arabia
August 18, 2017
We were excited to start the autumn term with a teacher workshop, held at the University of Helsinki. The attendees were teachers from different schools and cities in Saudi-Arabia. Mehackit instructed them into the creative use of code in the classroom.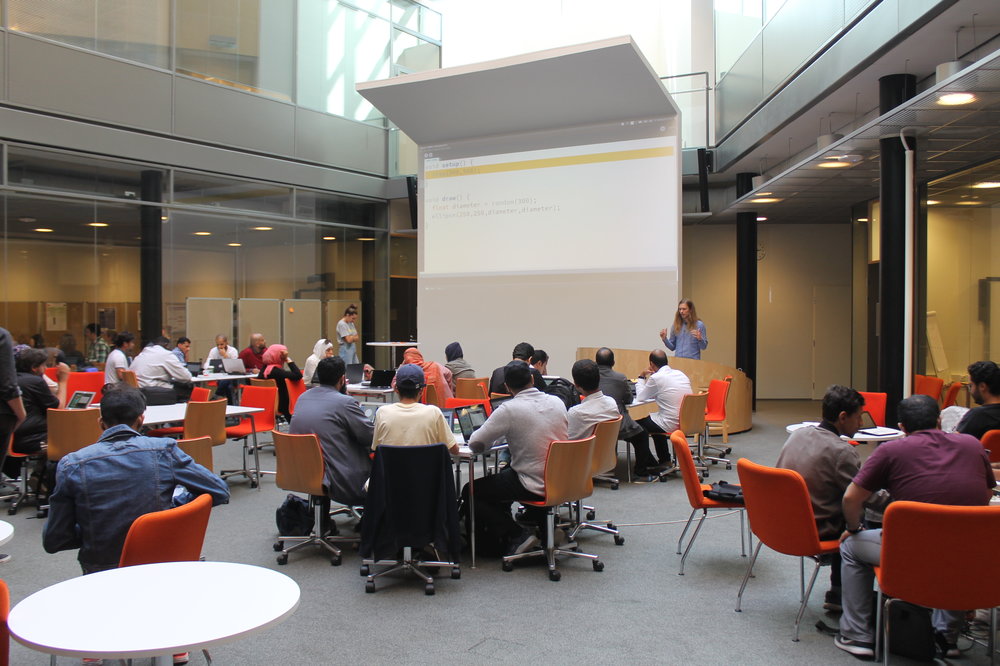 The theme of our workshop was Visual Programming with Processing
The open-source tool, Processing, is an exciting way to learn programming through visuals and art. Since 2001, Processing has promoted software literacy within the visual arts and visual literacy within technology. Tens of thousands of students, artists, designers and hobbyists use Processing for learning and prototyping.
Mehackit has been using this tool since 2015 and we have developed our own Processing-workshop materials.
We started with the basics of computer art
To begin with, we first got familiar with computer art and how visual artists use the Processing-tool in their work. We then created static compositions with Processing, drawing inspiration from geometric abstraction and optical art. We explored generative art and used randomness to animate the compositions.
The final touch was our mini exhibition 
In the end of the workshop, we held an exhibition and shared the different projects and insights created during the workshop. Here is what one of the participants thought about our creative project based approach to programming:
"I liked the workshop because it encouraged me to use my own taste and mind and to think with all levels of my brain."
Thank you University of Helsinki!
Interested about creative technologies and the Mehackit teacher workshop concept? Contact heini@mehackit.org.
Check out the tool at www.processing.org.
Our workshop materials can be found here http://processing.mehackit.org/.