Time to share our best kept secret with curious educators!
December 2, 2018

To me Atelier provided a completely new and different way to teach, and I liked it! I could continue teaching this way in the future – Sima Mironova, math teacher, Kirkkoharju school, Finland
A new learning service built by digital makers for schools globally
Mehackit Atelier is a new online learning service aimed at secondary schools to teach and learn programming and creative technology skills.
"We want Atelier to be an inspiring, easy and encouraging space where students and educators can work together, producing pieces of visual art, music or electronics projects of their own, while learning new skills in digital making!"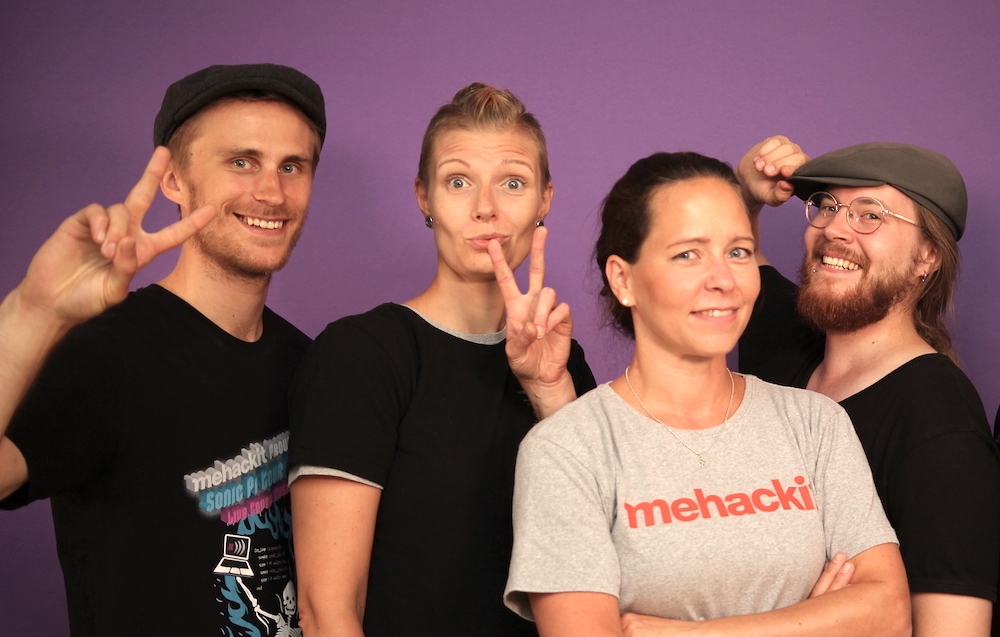 Writing learning material, scripting and filming instructional videos, building Atelier online environment and testing it with educators and students have kept the team busy! From left Mikko, Sanna, Heini and Antti at Mehackit Studio.
Three Creative Tracks to learn the basics of programming
At Mehackit Atelier educators learn by teaching and students learn by doing and making! Educator (teacher or code club instructor) starts by choosing one of the three creative programming content tracks: visual art, music and electronics. Educators take their students to Atelier virtual classroom to learn the Basic module (4-8 h).
When the basic skills are learned there are plenty of projects (á 2-4 h) to choose from to dive deeper! The modular content is aimed at both beginners and more advanced students.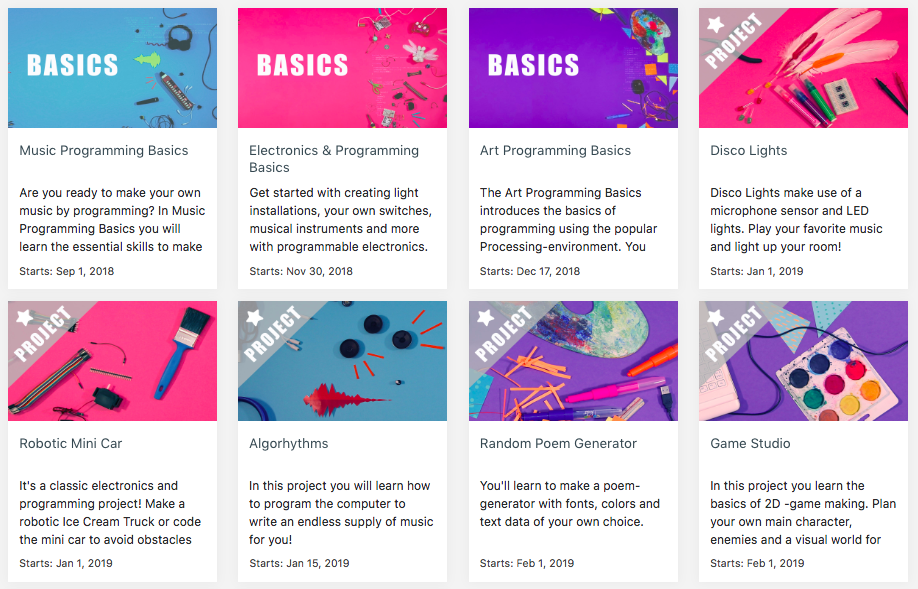 Some examples of Mehackit Atelier project based learning modules. Start with one of the three Basics modules and continue with Project modules of your choice.
Atelier minimizes the preparation time for teachers
Teaching with Atelier does not require previous knowledge of programming. Everything you need to know is carefully explained step by step on the instructional videos. We promise that the preparation time is minimal for the educator. After you get comfortable with the material you can start to tinker it to make your own visions true. We provide ideas of how to fit creative technology to many subjects and contexts.
We also promise that the content is interesting and motivating for the students. Students are able to proceed at their own pace and working with a pair is also an option when working on Atelier assignments and projects.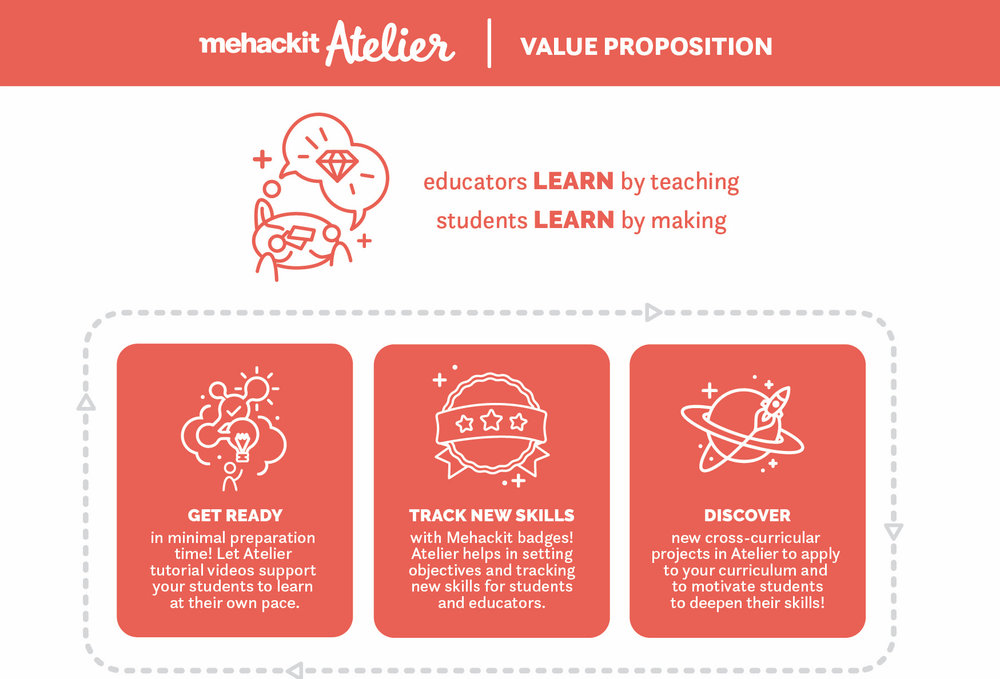 Maker Culture at school: Design – Make – Share!
When self actualization, personal interests and peer support are given enough space the learning gets more motivating. Atelier gives a lot of freedom for educators and students to choose the projects that either fit the curriculum or personal preferences. We support cross-curricular learning.
Many schools globally are including Maker Culture into their curriculum. Maker culture is digital fabrication of projects with variety of materials, media and methods. It can be compared to arts and crafts but the digital component, often programming or data, makes it different.
The software programs that Mehackit has selected to be used in Atelier are tools that are used by makers globally and they are open source and free of charge. The acquired digital and creative skills are applicable to many fields of interest later in studies and life.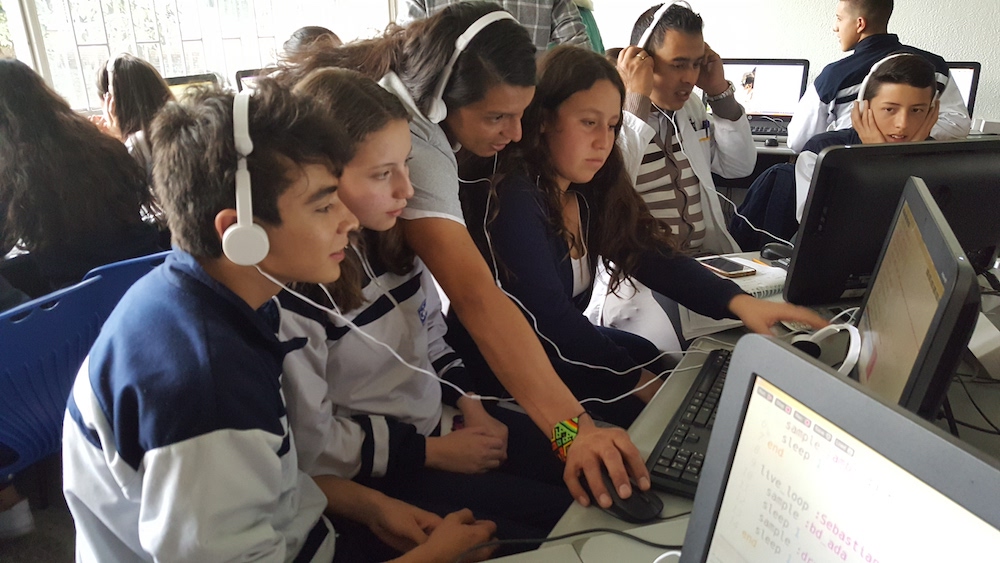 Mehackit Atelier gives educators more time to help individual learners to succeed with their own projects! Students follow the Atelier tutorial videos and make small project assignments before moving on to more challenging projects. In the photo, Mehackit instructor with lower secondary students learning Music Programming in Bogota, Colombia.
Learning is measured by delivering project assignments
Each module includes creative project assignments. Students earn online badges after delivering their work. After every module students earn a certificate. Also the educators earn certificates for teaching a specific module as proof of their professional development. Atelier Open Badges are visual tokens of achievement and skills, shareable across the web.
Welcome to test Mehackit Atelier!
To test Mehackit Atelier with your class go directly to Mehackit Atelier!
P.S. When we opened our first office we called it Ateljé to inspire out team, to cherish the creative maker culture and also to live up to the phrase "Let Me Hack It!" Our current office is already Ateljé III, and we want to share the creative spirit with you at the online Atelier, as well!