Live-Coding Warm Up Gig for a Symphony Orchestra – An Adrenaline Rush!
October 31, 2018
Mehackit @ Nordic Edge Conference / Sanna Reponen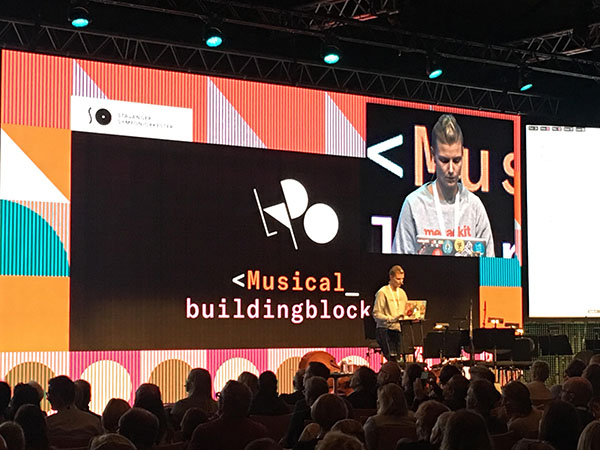 Sanna live-coded a 4-minute piece with Sonic Pi. Pic: Peter Fagerström
Mehackit helped to kick a lovely series of events into motion with a teacher training workshop in Stavanger, Norway, in early 2018. The setup sounded really impressive from the start: 500 local kids were about to start composing songs with the Sonic Pi music programming tool for LYDO, a competition organized by Stavanger Symphony Orchestra (SSO) and the energy company Equinor.
We returned to Stavanger in September for the Nordic Edge Conference and were happy to hear Sonic Pi is now used actively at schools. The local kids had submitted 50 original pieces of music to LYDO! I had the pleasure to meet Viljar Grindheim (12), the composer of the winning piece – his song had been arranged and performed by SSO! A smaller group of SSO musicians performed the song for the second time at Nordic Edge, where I also presented Sonic Pi to the audience and did a small live-coding performance.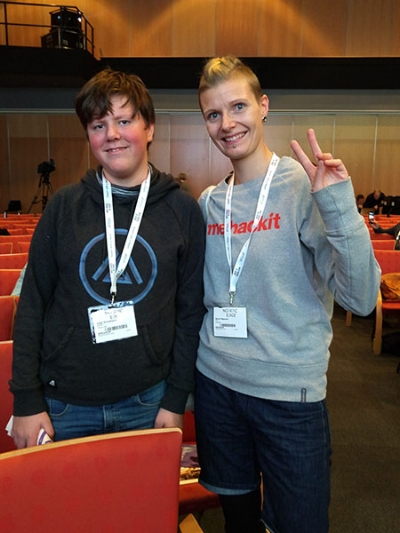 Viljar Grindheim's piece of music was presented in the event. Pic: Siv Elisabeth Vik
Live coding music in front of such a big audience was a thrill! I wanted the audience to feel how immediate programming music is. When we teach music programming with Sonic Pi, the participants create the first bleeps and bloops in a matter of seconds! Their faces just light up. Sound has something unique to it, you hear the results of your computer program right away and before you know it, you're already thinking about how to make it sound even better. The main focus is not the code but your artistic goals. I can't come up with a technology that allows a beginner to start making aesthetic decisions while programming as quickly. If you can, drop us a line, we really want to hear about it 🙂
After our show I learned the unbelievably cool Norwegian network Lær Kidsa Koding is doing great and supports eg. schools with teaching programming everywhere in Norway. The network helped us by translating our open Sonic Pi tutorial to Norwegian two years ago! The ed tech session at Nordic Edge was a good reminder of how valuable it is to join efforts with the open source community, volunteer organisations and other educational companies. Like us, many of the presenters also saw creativity as a strong internal motivator to learn. As one of the speakers, Sylvia Libow Martinez has put it: we as educators must trust in the creative process and the creative instincts of humans of all ages – and recognize how immensely important it is to make stuff we truly care about!