Co-creating a more sustainable future at SDC 2017
November 22, 2017
We were really happy to be a part of the annual Samsung Developer Conference in San Francisco with a new playful prototyping workshop.
Instead of diving deep into hacking and creative programming our participants worked against the clock to co-create new ideas and visual prototypes around various sustainability challenges.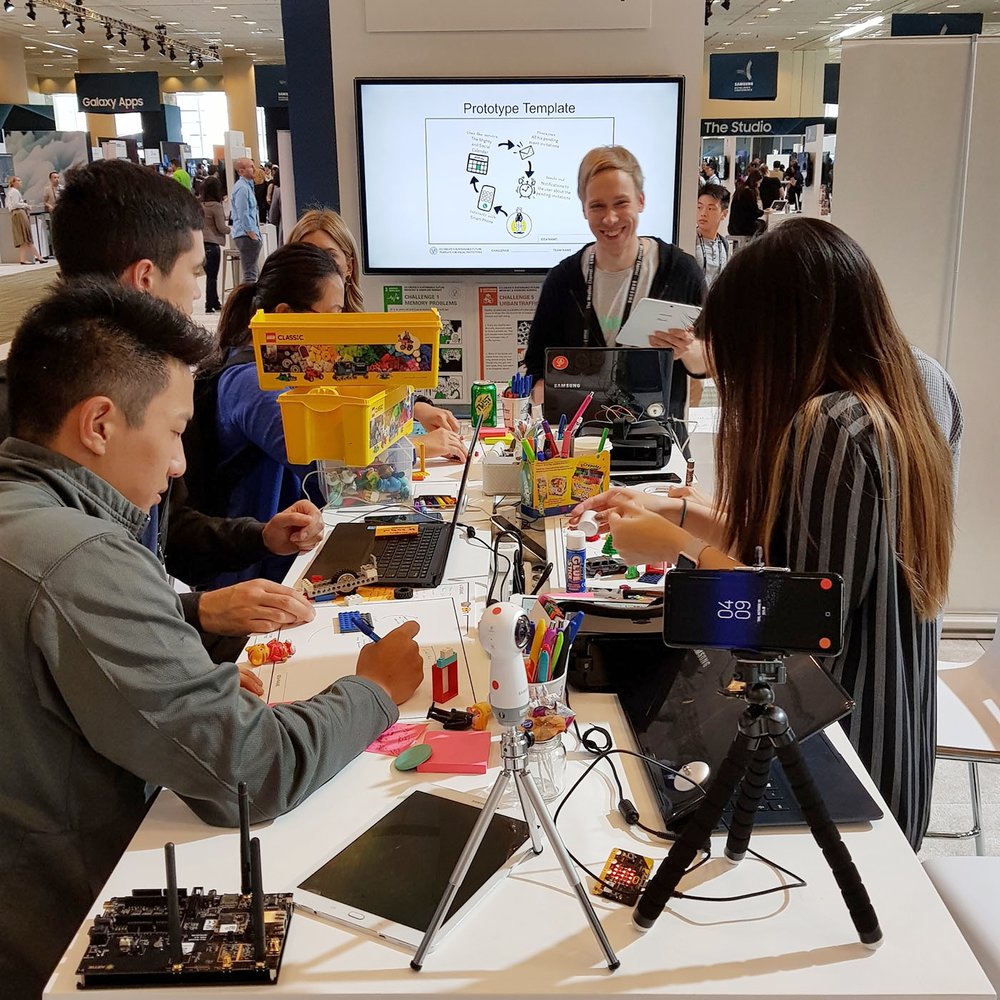 Solving sustainability challenges sounds serious but it can be messy and fun – Mehackit style!
SDC 2017 was held on 18th to 19th of October at Moscone Center for the global Samsung developer ecosystem of coders, designers, content creators, business people and innovators. The agenda was to learn about new trends and be part of the bigger picture of our technological and connected future. Last year we disrupted the booth area by bringing in some noise and electronic music with the Sonic Pi music programming workshop. This time we made a creative playground with 1-hour workshops called "Co-create a sustainable and connected future". While keeping our Maker influences and fun-factor, the workshop was based more on pen & paper & crafting action and Design Thinking principles. 
The initial idea came from Elin Wallberg, the Head of Nordic Corporate Citizenship at Samsung, as she wanted to encourage SDC participants to create ideas and solutions around some really pressing problems in the world and, while doing that, have a lot of fun and feel the Mehackit maker spirit! The workshops were in line with the theme of the conference, "Connected Thinking". Few weeks prior to SDC, we started to prepare a new kind of sprint workshop based on Design Thinking principles and created eight different workshop challenges based on the Sustainable Development Goals (SDG) by United Nations. They were presented as short illustrated stories about problems related to health, water scarcity, urban traffic, quality education and more.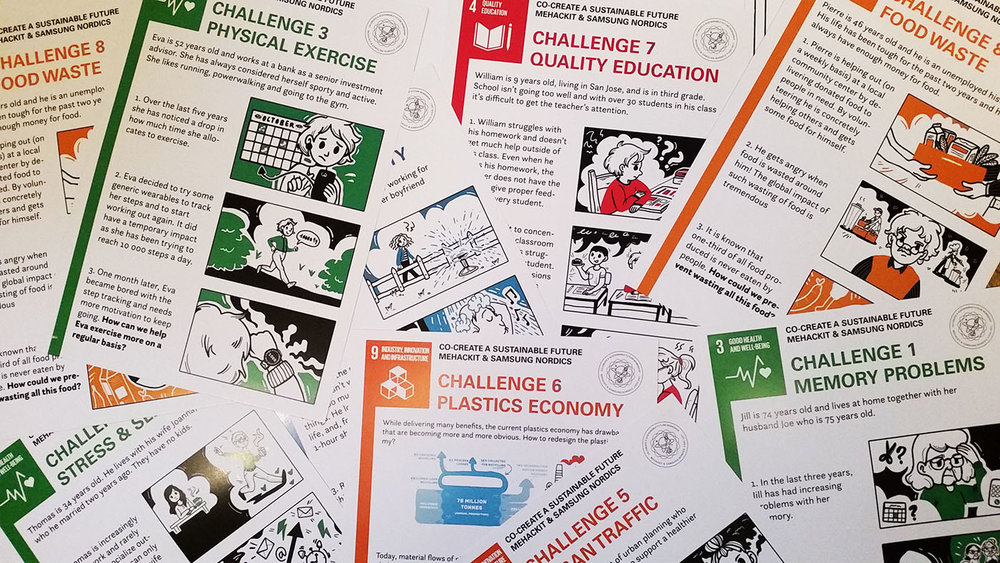 Sustainability challenges presented with illustrated posters
Participating teams discussed and created around their chosen challenges in a moderated Idea Sprint session. The teams filled in a design template with all the ideation steps visible within a timeframe of 15 minutes. Tough task, but in the end no one dropped out! Ismael Matos, a Freelance Web Developer and one of the participants, reflects: "I think it is a great way to get people focused. Brainstorming has to happen really fast and any great idea could pop up even if you first think it is silly or crazy. It helped that the way that you presented the challenges was really nice and simple."
After the ideation, the teams entered a 15-minute prototyping phase. The prototypes, which were like visual design flowcharts, explained how the idea works. By using a lot of colors, crafting materials, Samsung devices, LEGOs and even electronic components, the visual prototypes became alive, fun and engaging!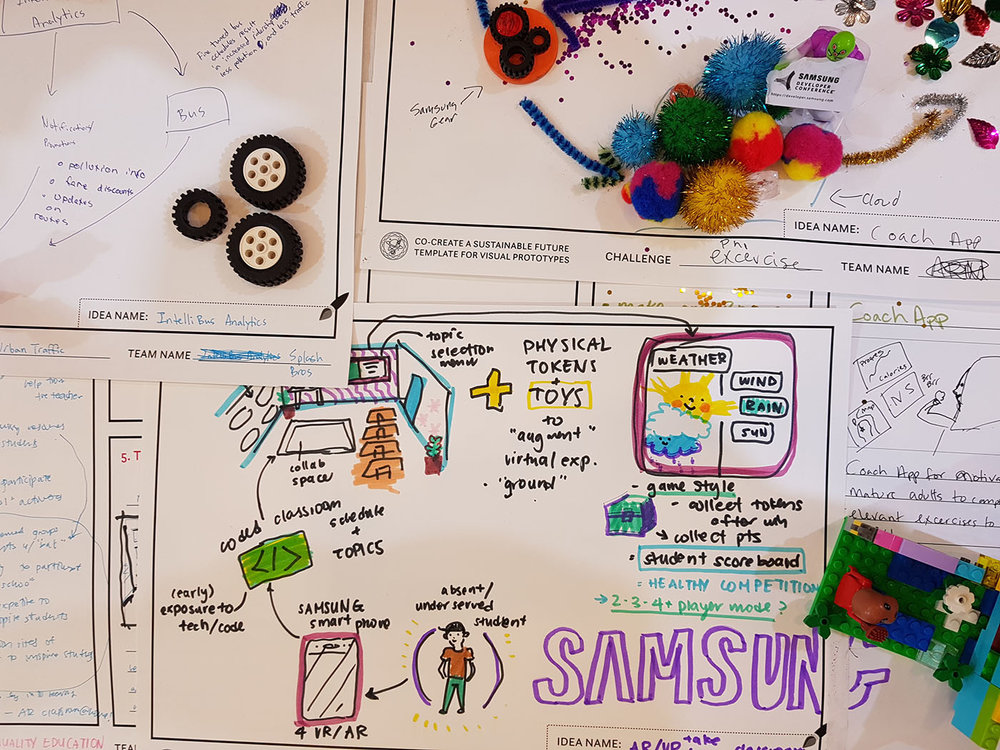 From an idea to a visual prototype
All in all, we got over 12 prototypes of how modern technology could be used to solve real sustainability problems, ranging from ways to reduce food waste to product ideas for the future classrooms! The participants impressed us with their ideas that would actually have a positive impact in this world. We hope they keep on developing them also after SDC. By the way, most of the participants didn't have a programmer background, so you really don't need to be a developer or a coder to start creating ideas and solutions with technology.
Otilia Rosianu, Digital Marketing and Research Analyst, was really happy to participate: "It was so much fun with a good amount of interaction. Combining creativity and technology to solve today's issues was an interesting approach yet fun and actually in some cases effective to the cause." After the workshop, Ismael felt more open to the possibilities of technology: "After the workshop, I felt amazed by how connected we can be, and how the technology could help us to solve any problem to improve our lives."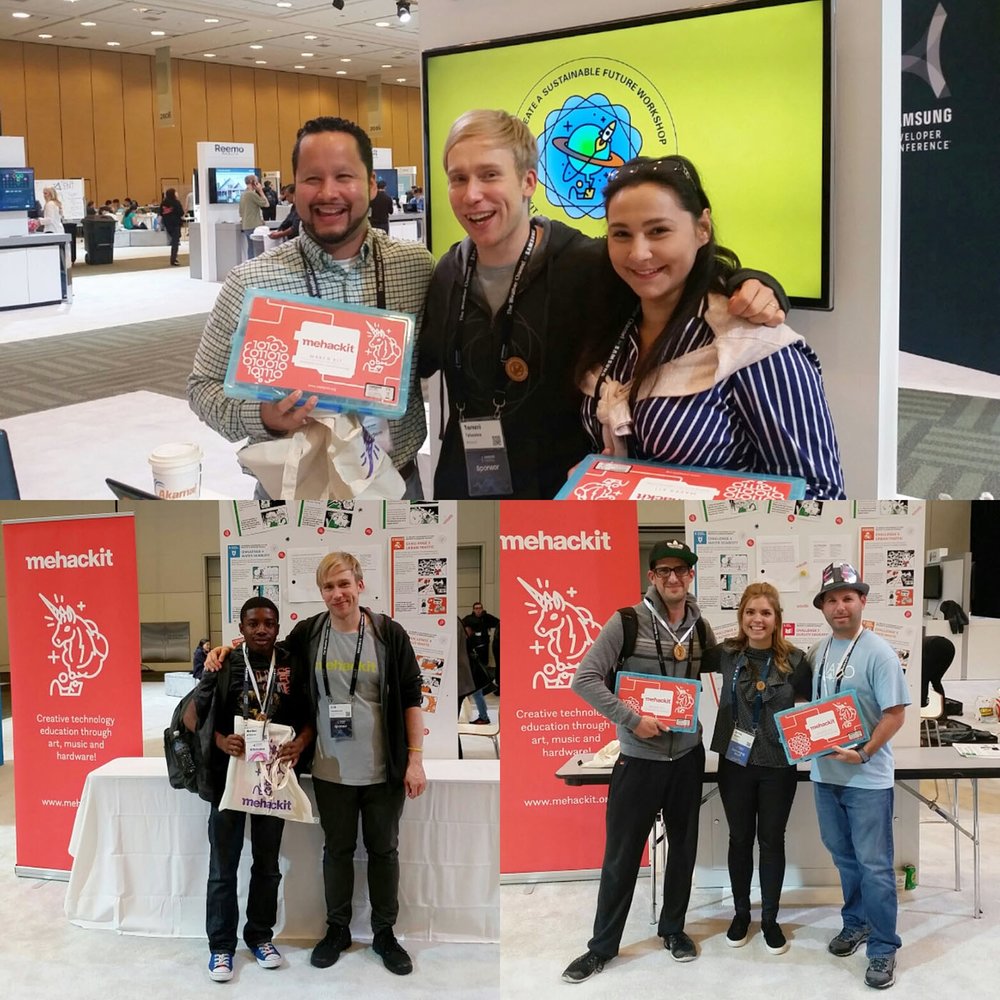 Each day teams behind the best prototypes won Mehackit Maker kits!
In the end, we felt the workshops were like at home in SDC. While the approach can make a big difference in understanding the complex digital world, it is also in line with Samsung's goals: coming up with new innovations for the connected world surrounding us. The workshops also were a very valuable learning opportunity for Mehackit. Activities like this help Mehackit to bridge some gaps between the programming curriculum and the real world out there. They can be used, for example, as a game-like introduction to our programming courses. 
Thank you Samsung again for an amazing Developer Conference. It was definitely an unique experience and we hope to be a part of it next year as well!
Pictures by Marica Määttä (Samsung) and Tommi Toivonen